T HE UNITED KINGDOM
(BC 1095 - 971)
120 years. The people wanted a king. Saul, David, and Solomon ruled over a united kingdom. Text: 1 Samuel 10–1 Kings 12:15; Proverbs; Ecclesiastes; Song of Solomon.
THE DIVIDED KINGDOM
(BC 971 - 722)
253 years. As king Rehoboam rejected the wise counsel of the older men and accepted the foolish advice of the younger, the kingdom was rent asunder. Text: 1 Kings 12:16– 2 Kings 17:5; Isaiah; Hosea; Joel; Amos; Jonah; Micah.
JUDAH ALONE
(BC 722 - 606)
116 years. Assyria was allowed by God to capture and swallow up the Northern Kingdom of Israel. This period deals only with Judah to the south. Text: 2 Kings 17:6–25; 1 & 2 Chronicles; Jeremiah; Lamentations; Ezekiel; Obadiah; Nahum; Habakkuk; Zephaniah.
BABYLONIAN CAPTIVITY
(BC 606 - 536)
70 years. Because Judah failed to learn from her neighbor to the north, Israel, God allowed Babylon to conquer, capture, and rule over His people for 70 years. Text: Daniel.
PERIOD OF THE RESTORATION
(BC 536 - 400)
136 years. The people were allowed to come back from Babylon to restore the temple and rebuild Jerusalem's walls. Text: Ezra; Nehemiah; Esther; Haggai; Zechariah; Malachi.
BETWEEN THE TESTAMENTS
(BC 400 - 4)
400 years. This is known as the 400 silent years in that no Bible books were written, but much was happening that led toward the "fullness of time" of Galatians 4:4. This is where the uninspired books called the Apocrypha are produced.
PERIOD OF THE CHRIST
(BC 4 - AD 30)
34 years. The coming of the Messiah is accomplished in this period. How rich and rewarding is the study of the life of Christ! Text: Matthew; Mark; Luke; John; Acts 1.
PERIOD OF THE CHURCH
(AD 30 - PRESENT)
In one sense Bible history closed in the first century, but in another sense, that history has continued into this century, as the church continues to carry out the Great Commission. We are presently living in this period. Text: Acts–Revelation.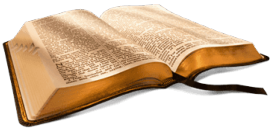 DENNY WILSON
What Does It Mean To Be
Ready To Give Answer!
An Explanation of First Peter 3:15 In Context
6/14/17